Ken Low: A Life of Learning Beyond Convention
May 21, 1943 - February 27, 2023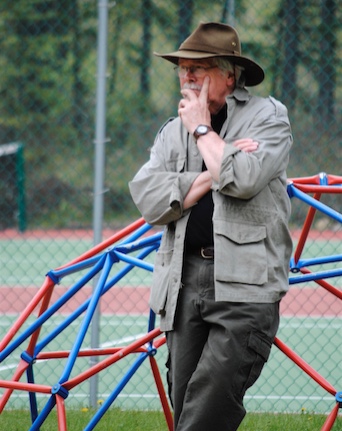 On April 23rd, 2023, family, friends, and community gathered to celebrate and remember Ken Low. View photos of the event.
A special exhibit was prepared of his life, and of the learning that was so significant to him. Click on the following links to view the exhibit images and the accompanying booklet.
---
Ken In His Own Words
---
Support Ken's Legacy
It meant a great deal to Ken to know his life's work would be carried on by the Human Venture Institute and Human Venture Leadership. P
lease consider a
gift in his memory
to Human Venture Leadership.
---
Ken Walter Low (Obituary March 2023)
It is with deep sadness that the family of Ken Low announce his passing on Monday, February 27th, 2023 at the age of 79. Ken was a loving husband, father, brother, and friend to many. He was an activist, spirited educator, inspiring speaker, and loving fellow human being. Born in Edmonton, Alberta on May 21, 1943 to Alice and Solon Low, he was the seventh of eight children. Ken grew up in Ottawa and moved to Alberta in 1960.
Ken attended the University of Calgary, where he studied psychology and animal behaviour. There he met Janice Cameron, who would become his partner in life and closest companion for more than fifty-five years. Together, they raised two sons, David and Jason.
Ken is predeceased by his parents, two brothers, and four sisters. He is survived by his beloved wife Janice; sons David (Jennifer), and Jason; granddaughter Saige; and brother Rick.
Ken sojourned with his family each summer to Waterton Lakes Park. He relished those happy, joyful, spirited summers exploring the magnificent mountains, meadows, and lakes of this International Peace Park that his father helped establish.
Ken worked in the field of education for much of his career. While Director of Life Skills Education at Calgary Board of Education (1970 – 1983), he created the Can-Do Program for children to teach active learning, grit, and resilience.
He co-founded the Calgary Council of Advanced Technology, the Alberta Commission on Tolerance and Understanding, and the Nunavik Education Task Force.
In the late 1960s he co-founded the Calgary Crisis Centre. In the 1980s he became vice-chairman of Alberta Alcohol and Drug Abuse Commission (AADAC). There, he authored the National Training Manual on Addictions Prevention for Canadian Health and Welfare.
A deeply caring, curious, and studious man, Ken's early interest in education and people in crisis and addictions progressed into a life-long study of the successes and failures of human learning and activity across cultures, sectors, disciplines, and periods in history. He founded Action Studies Institute in 1983 and pioneered the development of a new discipline: Human Learning Ecology.
In 1998, Ken created and launched Leadership Calgary, then Leadership Edmonton, programs supported by Volunteer Calgary. These would move under the umbrella Human Venture Institute and Human Venture Leadership organizations. Through these programs Ken introduced hundreds of community leaders to important learning. He began each year's class by posing the very real question his life's work sought to answer: What does it mean to be alive and human?
Ken lived by the mantra, "we are always more ignorant than we are wise," and thus strived to be always learning, discovering, and pioneering; to challenge himself to live an unconventional life; and to take calculated risks. He was deeply compassionate, and he dedicated his life to developing a framework for understanding human progress, folly, and resistance, including the systemic adaptive challenges facing humanity at our time and place in history, and what it will take to meet them.